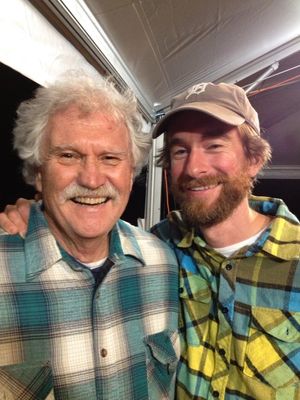 What a wonderful week of renewal, love, & community. Grateful for a beautiful reconnection/reunion with my
Mutual Kumquat
/Funkalicious brothers Nome McBride & Justin Peterson; special times with old friends & family; and such love & openness amidst sharing, singing, & camping together over the week from the whole
Song & Story Festival
family. Thank you all!!!
A highlight among highlights was getting to play bass with Steve Kinzie during his concert. I love this man. As a 10 year old he trained me in mediation & how to transform conflict on the recess playground of Laketon Elementary. As a teenager I looked up to him in awe as one of my favorite singer-songwriters. In college I studied Conflict Resolution with him at the University of Laverne. Over the last decade I have called him mentor and dear friend. What an absolute joy to share the stage! For those of you who don't know Steve check out
stevekinzie.bandcamp.com
!! We're only in Utah on our way home from Oregon & we've already listened through his new album 'Openings' at least 4 times...absolutely gorgeous.